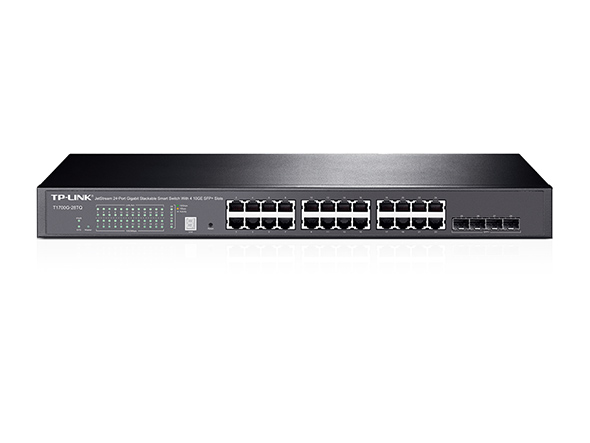 Switch Smart Apilable de 24 Puertos Gigabit JetStream con 4 Ranuras SFP+ 10GE T1700G-28TQ
Apilamiento físico que permite hasta 6 unidades y 40Gbps de ancho de banda bidireccional para alta escalabilidad y redundancia eficiente
Puertos SFP+ 10G para apilamiento y/o uplink, que ofrece soporte para aplicaciones de alto ancho de banda evitando congestión y repartiendo datos de manera fluida
Funcionalidades L2+, Enrutamiento Estático que ayuda al tráfico interno para mayor eficiencia de uso y recursos de red
Funcionalidades de seguridad avanzada incluyendo Vinculación IP-MAC-Puerto, ACL, Seguridad por Puerto, Defensa DoS, Control de Tormentas, DHCP Snooping, Autenticación 802.1X y Radius
Soporta IPv6 permitiendo apilamiento dual IPv4/IPv6, MLD snooping e IPv6 neighbor discovery
Modos de gestión WEB/CLI, SNMP, RMON e Imagen Dual para mejorar la gestión
Solución de Switching Económica 10-Gigabit para SMBs en Crecimiento
Serie de Switches Smart 10G T1700
En un mundo de empresas en expansión y virtualización en crecimiento, los servicios y aplicaciones basados en cloud, como VoIP, streaming de vídeo HD y vigilancia IP, las redes SMB necesitan evolucionar más allá de la simple fiabilidad para proporcionar escalabilidad y ancho de banda mayor y rendimiento mejorado. La nueva Serie de Switches Smart 10G T1700 representa la solución ideal que reúne estas características. La serie incluye el Switch Smart 10-Gigabit T1700X-16TS y el Switch Smart Gigabit Apilable con 10G de Uplink T1700-28TQ, ambos proporcionan altos niveles de rendimiento, escalabilidad y económicos que requieren las SMBs en sus soluciones de red de 10G.
GIGABIT APILABLE
SMART SWITCH
Switch Smart Gigabit Apilable de 12 Puertos
Con 4 Ranuras SFP+ 10GE
Future-Proof
10GBase-T Technology
Until recently, 10-Gigabit connectivity was available only in the expensive fiber based technology that supports high-speed access to the network backbone or data center environment.
Today, 10GBase-T Technology is becoming more common and affordable. Low-Latency, Line-Rate 10G Copper Base-T is backward compatible with Fast Ethernet and Gigabit Ethernet and can automatically negotiate between higher and lower speed connections. Most importantly, 10GBase-T provides a cost-effective method for migrating from your current network to 10G Ethernet by utilizing your existing CAT5e/CAT6 RJ-45 short connections (up to 55m) and CAT6A/CAT7 connections (up to 100m). This reduces cabling complexity and ultimately results in significant savings for customers.
16 10-Gigabit Ports,
320Gbps Switching Capacity
The T1700X-16TS features 12 10GBase-T RJ45 ports and four dedicated SFP+ fiber slots, which can support up to 320Gbps of combined switching bandwidth. This provides great resiliency, relieves congestion associated with bandwidth-intensive applications, and guarantees smooth data transmission.
GIGABIT STACKABLE
WITH 10G UPLINK
24-Port Gigabit Stackable Smart Switch
with 4 10GE SFP+ Slots
Physical Stacking
With True Physical Stacking Technology, up to six T1700G-28TQ units can be stacked with a single IP address.
This provides enhanced scalability, simple management, and increased redundancy for high-density deployment. It also supports efficient network expansion in the future.
6 Units

True Physical Stacking Technology of up to six units supports network simplification

144 GE Ports

Up to 144 Gigabit Ethernet ports per stack

24 10G SFP+

Up to 24 10G SFP+ slots per stack

768 Gbps

Up to 768Gbps of switching capacity for aggregated networks

1 Management IP

With all units identified by a single IP address, configuring and monitoring the stack is easy
Fanless Design for Silent Operation
The T1700G-28TQ utilizes a fanless design, which reduces the amount of ambient noise in your office. Removing the fan also reduces power consumption and helps you build a more cost-effective network.
Software Features
L2+ Static Routing

Simple network segmentation, with internal routing through the switch, allows devices in different VLANs/subnets to communicate with each other and makes the flow of network traffic more efficient.

Abundant L2 Features

T1700 Series devices are equipped with a full lineup of L2 features that meet your current and future needs for unified networking and mobility.

802.1Q/MAC/Protocol/Private VLAN1

Link Aggregation Group (LAG)

IGMP & MLD Snooping

Multicast VLAN

Robust Security Strategies

Support for numerous security strategies allow you to create a secure, unified network by preventing unauthorized access, external attacks, and malware infiltration.

Access Control List (ACL)

DHCP Snooping

802.1x Authentication

IP-MAC-Port Binding

Comprehensive QoS Features

Advanced controls provide optimized network performance and efficient delivery of time-sensitive traffic.

Port-Based or 802.1p-Based Prioritization

Layer 3-Based (DSCP) Prioritization

Rate Limit

Voice VLAN

IPv6 Support

The T1700 Series offers comprehensive IPv6 features, including IPv6 management, Static Routing, ACL, and QoS2, which ease the transition to an IPv6-based network and protect the value of your investment.

Dual Image

Dual image firmware reduces downtime when the firmware is being updated. The backup image will also be activated in the event that any error occurs on the active image.
1 Only T1700X-16TS supports Private VLAN
2 IPv6 Static Routing/ACL/QoS will be supported in a future firmware release
Hardware Specifications
T1700X-16TS
T1700G-28TQ
10/100/1000Mbps RJ45 Ports
-
24
10GBase-T RJ45 Ports
12
-
Uplink
4 Dedicated 10G SFP+
4 Dedicated 10G SFP+
Switching Capacity
320Gbps
128Gbps
Dimensions(W×D×H)
17.3×8.7×1.73 in.


(440×220×44mm)

17.3×7.1×1.73 in.


(440×180×44mm)

Fan Quatity
Two Smart Fans
Fanless
Find More Details
Go>
Go>
Accessories
10GBase-SR SFP+ LC Transceiver

850nm multi-mode transceiver
300m max distance
LC/UPC Connector

TXM431-SR

10GBase-LR SFP+ LC Transceiver

1310nm single-mode transceiver
10km max distance
LC/UPC Connector

TXM431-LR

1M/3M Direct Attach SFP+ Cable

1M/3M cable length
SFP+ connector on both sides

TXC432-CU1M / TXC432-CU3M
Apilamiento Físico
Hasta 6 unidades de Apilamiento Físico
Hasta 40Gbps de ancho de banda apilable bidireccional
Apilamiento en anillo para Redundancia de Enlace
Agregación de Enlace Distribuida
Funcionalidades L2 y L2+
Enrutamiento Estático
Protocolo de Control de Agregación de Enlace (LACP)
802.1Q/MAC/Protocolo VLAN
STP/RSTP/MSTP
IGMP Snooping
Estrategias de Seguridad
Seguridad por Puerto
Listas de Control de Acceso (L2~L4 ACL)
DHCP Snooping
Vinculación IP-MAC-Puerto
Autenticación 802.1x y Radius
Encriptaciones SSL y SSH
Control de Tormentas
Defensa DoS
Calidad de Servicio
8 Colas de Prioridad
802.1P/DSCP QoS
Tasa Límite
Voice VLAN
Gestión
GUI Basada en Web
Interfaz de Línea de Comandos (mediante Telnet)
SNMP v1/v2c/v3
RMON (1, 2, 3, 9 group)
Gestión IPv6
Imagen Dual
CARACTERÍSTICAS DE HARDWARE
Estándares y Protocolos
IEEE 802.3i, IEEE 802.3u, IEEE 802.3ab, IEEE802.3z, IEEE 802.3ae, IEEE 802.3ad, IEEE 802.3x, IEEE 802.1d, IEEE 802.1s, IEEE 802.1w, IEEE 802.1q, IEEE 802.1x, IEEE 802.1p
Interfaz
24 Puertos RJ45 10/100/1000Mbps
4 Ranuras SFP+ 10G fijas
Medios de Red
10BASE-T: Cable UTP categoría 3, 4, 5 (máximo 100m)
100BASE-TX/1000Base-T: Cable UTP categoría 5, 5e o superior (máximo 100m)
1000BASE-X: MMF, SMF
10GBASE-LR
10GBASE-SR
Cantidad de Ventiladores
Sin ventilador
Fuente de Alimentación
100-240V, 50/60Hz
Consumo de Potencia
21.8W
Peso
2.8kg
Dimensiones
440 * 180 * 44 mm. (17.32 * 7.1 * 1.73 in)
APILAMIENTO FÍSICO
Transceiver SFP+ Instalables y Cables (DAC) de Cobre de Conexión Directa
TXM431-SR
TXM432-LR
TXC432-CU1M
TXC432-CU3M

Máximo Número de Puertos Apilables Instalables
2 SFP+
Nº de Unidades por Apilamiento
Hasta 6 unidades
Velocidad de Apilamiento (por Puerto)
20Gbps (Full-Duplex)
RENDIMIENTO
Capacidad de Conmutación
Hasta 128Gbps para un switch individual
Tasa de Reenvío de Paquetes
Hasta 95.2Mpps para un switch individual
Tabla de Direcciones MAC
16K
Memoria del Buffer de Paquete
1.5MB
Jumbo Frame
9KB
Número de Rutas Estáticas
32 IPv4
Número de Interfaces IP
16
CARACTERÍSTICAS DE SOFTWARE
Calidad de Servicio
Soporta prioridad 802.1p CoS/DSCP
Soporta 8 colas de prioridad
Programación de colas: SP, WRR, SP+WRR
Port/Flow - basado en Limitación de Tasa
IPv6 QoS*
Voice VLAN
Características L2 y L2+
Rutas Estáticas
DHCP Relay*
IGMP Snooping V1/V2/V3
802.3ad LACP (Hasta 14 grupos de agregación, conteniendo 8 puertos por grupo)
Spanning Tree STP/RSTP/MSTP
BPDU Filtering/Guard
TC/Root Protect
Loopback detection
802.3x Flow Control
LLDP, LLDP-MED*

VLAN
Soporta hasta 4K VLANs simultáneamente (hasta 4K IDs de VLAN)
VLAN basada en MAC/Protocolo
Lista de Control de Acceso
Filtrado de paquetes L2~L4 basado en dirección MAC origen y destino, dirección IP, puertos TCP/UDP
IPv6 ACL*

Seguridad
AAA*
Seguridad por Puerto
DHCP Snooping
Vinculación IP-MAC-Puertp
Inspección ARP
802.1x and Radius Authentication
SSH v1/v2
SSL v3/TLSv1
Control de Tormentas Broadcast/Multicast/Unknown-unicast
Defensa Dos

IPv6
Apilamiento dual IPv4/IPv6
Multicast Listener Discovery (MLD) Snooping
IPv6 neighbor discovery (ND)
Path maximum transmission unit (MTU) discovery
Internet Control Message Protocol (ICMP) versión 6
TCPv6/UDPv6

Aplicaciones IPv6
Cliente DHCPv6
Ping6
Tracert6
Telnet (v6)
IPv6 SNMP
IPv6 SSH
IPv6 SSL
Http/Https
IPv6 TFTP
Gestión
Gestión Web basada en GUI y CLI
SNMP v1/v2c/v3,compatible con MIBs públicas y privadas de TP-Link
RMON (grupos 1, 2, 3, 9)
Monitorización de CPU
Port Mirroring
Actualización de Firmware: TFTP & Web
Diagnóstico de Sistema: VCT
SYSLOG & MIBS Públicas
Dual Image
Otros
Certificaciones
CE, FCC, RoHS
Contenido del Paquete
T1700G-28TQ
Cable de Alimentación
Guía de Instalación
CD de Recursos
Kit de Montaje en Rack
Pies de Goma
Requisitos del sistema
Microsoft® Windows® XP, Vista™ or Windows 7, Windows 8/8.1, MAC® OS, NetWare®, UNIX® o Linux.
Factores Ambientales
Operating Temperature: 0℃~40℃ (32℉~104℉);
Storage Temperature: -40℃~70℃ (-40℉~158℉)
Operating Humidity: 10%~90%RH non-condensing
Storage Humidity: 5%~90%RH non-condensing